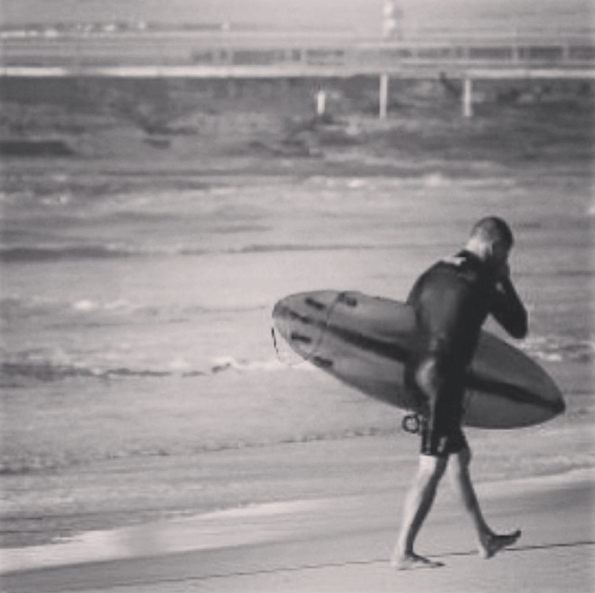 Pre 1960 Balsa Pig
People of Cronulla are celebrating 100 years of surfing as of early February 2015. In 1915 the DUKE graced the shoreline of Cronulla, wooing the crowd with a never before seen approach to the ocean. 100 years later the surfing community has been given an opportunity to look back on the heritage of our sport of surfing.
At PCC surfboards we consider what the past has influenced our present. The surfboards we make are both contemporary in performance and retro in its artistry. Some models are clearly a direct reflection of a past period, like a 1964 style log or 1970 single fin. The contemporary shapes have some aspects of previous eras without losing the modern overall appeal.
The featured black and white photograph was supplied by a good friend Greg Ferrow, of his father holding his pride and joy, a pre 1960 balsa wood 10 foot log surfboard. The smaller pics are of the registration stickers (mandatory of the time) and a profile shot of the skeg fin. This classic shot depicts so much of the time in the shire, the housing, cars, clothing …. which sends you back to the time of the subjects era.
In surfing now as much as any time, people seem to be embracing the roots of what the sport means, or has meant to them. The common love of the of the ocean and riding surf craft has evolved into a truly timeless pursuit.
Here in this picture I have a little something to share with PCC viewers. With one degree of separation we can related to the history of surfing in Cronulla here. I am so happy to have been a part of so many smiles as a surfboard maker over the years. I hope there are many more years of smiles to come.
The featured board is @pccboards.com.au showroom to view.
SP
Related Posts
Comments are closed.