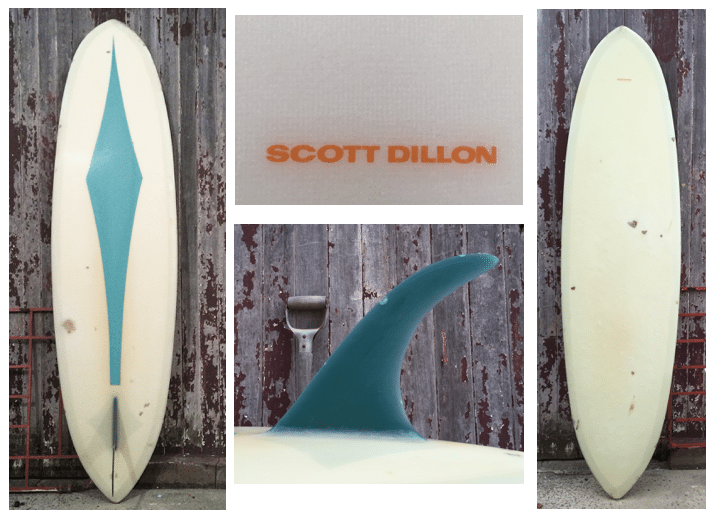 Modern History
Recently we acquired a special old surfboard here at PCC surfboards. In the picture we can see this transitional board from around the year of 1968. This was the time that surfboards were radically changing in shape and performance.
Shaped in Brookvale by Scott Dillon, this 7 foot 6 vee bottom is a great example of what surfers were riding in the late sixties and into the early seventies. It is worth mention, there is no facility for attaching a legrope on the board, which would hint to me that this surfboard has been retired from the ocean for some time .. like 40 odd years.
The condition that it was received in was quite good, though there were many authentic rashes and holes from going 'up the rocks' many times. The colour of the original volan cloth (glassing) is in great condition. We went about repairing all the leaky dings, scrapes and holes, then re finish coated the whole surfboard in filler resin. The finished product is now an original ridable classic shape with the original, in tact, fin.
With great excitement I (Stuart) ventured into the surf to test ride the most authentic piece of surfing history that as ever been available to me in my 30 plus years of building surfboards. The waves were small and clean, perfect to test the vee bottom. The experience was interesting and rewarding, to say the least. Interesting in how it felt to paddle and attempt to turn the surfboard. Fulfilling for the feeling of resurrecting the piece of history and getting the authentic lesson in how to ride these old shapes, combined with imagining how others in the past used these surfboards to ride the waves.
The old Scott Dillon is racked in the factory for viewing. With the right conditions I will be getting on it for another blast from the past, sooner rather than later.
If you are in the shop, feel free to ask about some of my old boards that I have in the shop. In the balance of things, the iconic surfboards all have a large roll to play in what we consider to ride in this modern day.
SP.
Related Posts
Comments are closed.